Serves 4
Nothing says summer better than vine ripened tomatoes! This dish is full of them and they are beautifully paired with fresh basil & parsley as well as the ever popular BACON! This dish is quick and easy enough for a mid-week meal using store bought pasta or step it up a bit and try your hand making easy homemade egg pasta.
One of the greatest things for me about this dish is that most of the ingredients can be sourced from the Aberfoyle Farmers Market, with the exception of the Parmigiano Reggiano cheese and the flour (if you decide to make your own pasta- I have included that recipe too – see below). The original recipe calls for pancetta, but as that is not easy to located but I find that good bacon is an excellent substitute, and Top Market Meats has goooood bacon!
A number of our vendors like Vandenbroek Family Farm, Nith Valley & Parker Family Farm can help you find the fresh ingredients that you will need for this tasty meal. And don't forget that you can even get your VQA wines at our market. This really is a dish that will have you visit a good cross section of our vendors.
BBT Pasta (Bacon, Basil & Tomato)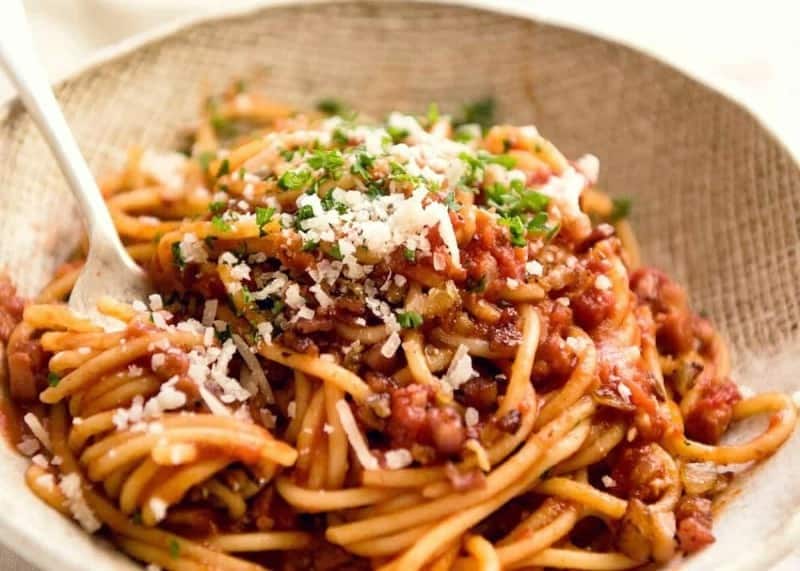 Ingredients
1 lb spaghetti (or egg noodle recipe below)
1 package of bacon from Top Market Meats
1 red onion, chopped
4 finely chopped (or grated) garlic cloves
1/2 a teaspoon of crushed red pepper flakes, or a nice dollup of Sriracha sauce
1/2 cup white wine or 1/2 cup chicken broth
2 pints of grape tomatoes
2/3 cup flat leaf parsley
Salt & pepper to taste
1 cup basil leaves, torn or chopped
2/3 cup grated parmigiano reggiano cheese
Directions
Bring a large pot of water to a boil, salt it, add the pasta an cook until al dente. Drain, reserving 1 cup of pasta cooking water.
While the pasta is cooking, in a large skillet, add chopped bacon and just enough water to almost cover it.
Cook this on high heat until most of the water has evaporated, then turn heat down to medium to continue to cook the bacon until slightly crisp.
Add the red onion and garlic and crushed red pepper (or sriracha) and cook until softened.
Turn the heat back up to high and stir in the wine and cook for 1 minute to evaporate the alcohol.
Turn the heat down to medium-high and add the grape tomatoes, parsley and a generous amount of salt and pepper.
Cook until the tomatoes burst (about 8 to 10 minutes).
Stir in the reserved pasta cooking water and then the pasta, tossing to coat.
Turn off the heat, add the basil and the cheese, toss again and then serve.
Homemade Egg Noodles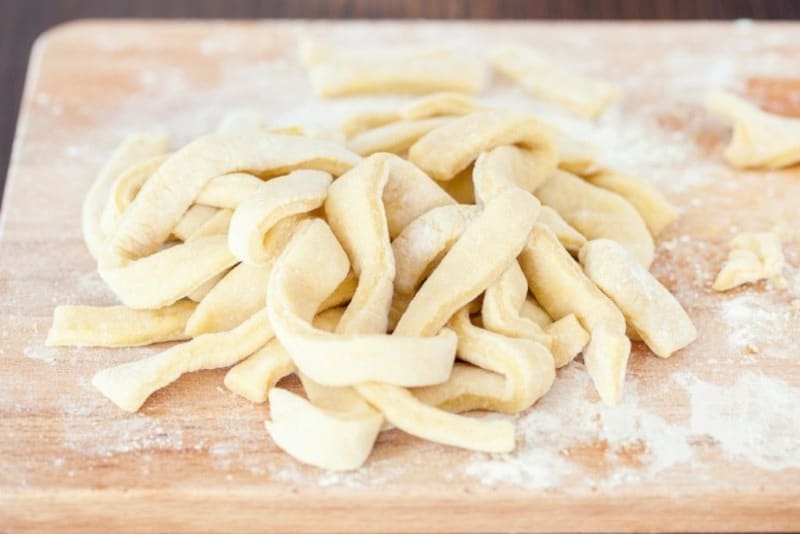 Ingredients
2 cups of flour
3 egg yolks from Top Market Meats
1 egg
2 teaspoons of salt
1/4 to 1/2 cup of water
Directions
Measure flour into a medium sized bowl. Make a well in the centre and add egg yolks, whole egg and salt. Mix thoroughly with your hands until combined.
Add water, 1 tablespoon at a time mixing well after each addition. Add only enough water to form the dough into a ball.
Turn dough onto a well floured surface and knead the dough until it is smooth and elastic, about 10 minutes.
Divide the dough into 4 equal parts and cover. Rest the dough for 10 minutes.
Roll each part on a well floured surface (as dough will be sticky at this point), into a paper thin rectangle.
Fold the rolled rectangle in half and cut into strips (1/8 inch or 1/4 inch). Shake out the strips and place on a towel to dry for about 2 hours.
When dry, break strips into smaller pieces.
Cook the pasta in about 3-4 liters of boiling salted water or chicken broth until al dente.
Drain thoroughly and toss into sauce above.
Visit the Aberfoyle Farmers Market in Aberfoyle, Ontario at 23 Brock Road South, on the rink surface of the Optimist Recreation Centre. Saturdays from the end of May until the end of October, 8am to 1pm.