Ontario Cherries make tasty summer cupcakes! Sweet Temptations Cupcakery is a vendor at the Aberfoyle Farmers' Market on select Saturday mornings. Please check out our schedule of dates when we will be at market on our website here and follow the link to the Market schedule.
I am excited to share with you for the first time one of my recipes! Part of my love for baking has been in sharing recipes with friends, looking up new ones online and in books and magazines. I hope that this recipe equips you with the detail you need to try these at home with some wonderful, fresh, seasonal Ontario cherries. See picture at the bottom for what ours look like!
If you have questions about this recipe, want to troubleshoot with me if you encounter a problem or want to share a tip you discovered while baking, please comment below, 'like' our Facebook page or email me at [email protected] – I'd love to hear from you! Hope you like them and enjoy your very own sweet temptation!
Makes 16 cupcakes, filled 2/3 full. Double the recipe for 32 cupcakes.
You will need for Fresh Cherry Cupcakes….
Eleven Everyday Ingredients
1 1/2 cups all purpose flour (can substitute for a gluten variety of your choice)
1/2 tsp Salt
¾ cups butter
1 cup sugar
1 large egg, room temperature
1 cup milk (can substitute a dairy free variety of your choice) whole milk tastes richer, but I use 1%
1 1/4 tsp baking powder
1 tsp vanilla extract
1/4 tsp almond extract (if you don't have almond extract you can just use vanilla extract alone, but combine to include 1 ¼ vanilla extract)
1 cup buttermilk (if you don't have buttermilk, fill 1 cup of regular milk and add 1 tbsp vinegar, let stand for 5 minutes – use cup for cup)
1 cup finely chopped Ranier fresh pitted cherries
Five Simple Directions
Preheat oven to 350F. Line 16 muffin cups with paper liners.
In a medium bowl, whisk together flour, baking powder and salt.
In a large bowl, cream together butter and sugar until light.
Blend in the egg, vanilla extract and almond extract until smooth.
Working in two or three additions, gradually mix in the dry ingredients, alternating with additions of buttermilk and ending with an addition of the last of the flour mixture. Stir in chopped cherries.
Fill 16 cupcake liners 2/3 full with batter.
Bake for 16-19 minutes, until a toothpick inserted into the center comes out clean. Cool cupcakes on a wire rack completely before frosting.
Four pantry staples for Vanilla Buttercream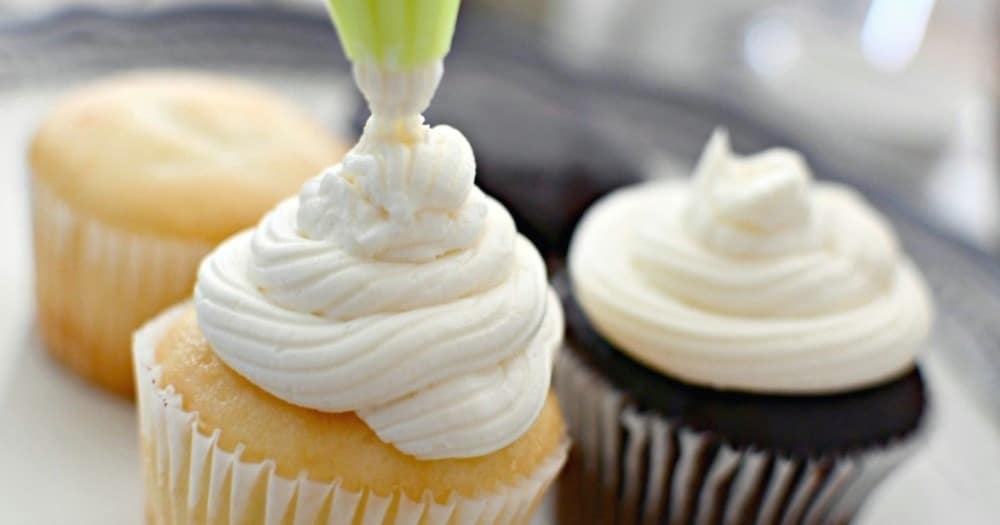 1/2 cup butter, room temperature (can substitute vegetable shortening if you prefer)
3 tbsp milk
1 tsp vanilla extract
2-3 cups icing sugar (I prefer Redpath, but any brand will do)
Cream butter until smooth using paddle of stand mixer or hand mixer.
Add milk, vanilla and whip until combined.
Gradually add approximately ½ cup icing sugar at a time and continue to mix on medium-high speed until smooth.
If buttercream is too thick, add an additional tsp milk, if buttercream is too thin, add additional icing sugar ¼ cup at a time if necessary.
To garnish
16 whole cherries (do not remove stems)
1 bar Dark chocolate
Melt chocolate in microwave or on stovetop, be careful not to burn.
Dip whole cherry in chocolate and set on baking sheet lined with wax paper to cool.
Top each cupcake with frosting and a whole, fresh chocolate-dipped Ontario Ranier cherry.
Refridgerate until ready to serve, enjoy!