Serves 8 to 10
You know that summer is in full swing when our market is over-flowing with sweet and juicy Ontario peaches! Warners Orchard based in Beemsville, Ontario lovingly grows and cares for their peaches so that they can bring that quintessential taste of summer to the Aberfoyle Farmers Market.
My family loves peaches! And their love for this glorious stone fruit has grown since I stumbled upon this recipe on the Taste of Home website. As soon as peaches reach the market the requests for this super easy to make recipe start flooding in. This dish is as comforting as it is delicious and I am counting down he days to Saturday so that I can get to the market to buy my peaches.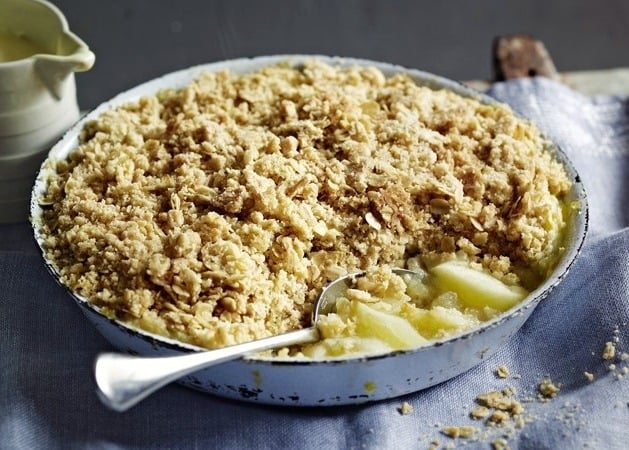 I have also experimented with using this recipe with other fruits. Strawberry rhubarb, although it tastes wonderful doesn't have the stability to handle the heavy topping. But apples work just as well as the peaches taking this quick and easy dessert well into the fall. And don't forget to top with vanilla ice cream for the ultimate indulgent dessert worthy of a Sunday dinner, or your next dinner party.
As with most peach recipes, the original calls for sliced peeled ripe peaches. Me, being the lazy cook that I am decided that I didn't want to peel the peaches. Instead, I simply washed them, sliced them and added them to my dish. The result was perfect! The peach skins are delicate enough to break down in the dish, and the skins added beautiful and unexpected colour to the finished product. And after all, there is a ton of nutrition in the skins as well. I have also made a few modifications to the original recipe in that I added cinnamon and vanilla to the topping. Both just seem to round out the flavours nicely.
Ingredients
Peach filling
6 cups sliced (peeled or not) ripe peaches from Warners Orchards at the Aberfoyle Farmers Market
1/4 cup packed brown sugar
3 tablespoons all-purpose flour
1 teaspoon fresh squeezed lemon juice
1/2 teaspoon grated lemon peel/zest
1/2 teaspoon ground cinnamon
Topping
1 cup all-purpose flour
1 cup of sugar
1 teaspoon of baking powder
1/4 teaspoon of salt
1/4 teaspoon ground nutmeg
1/2 teaspoon of ground cinnamon
1 teaspoon vanilla
1 egg, lightly beaten
1/2 cup of butter, melted and cooled
Directions
Preheat the oven to 375 degrees. Place the sliced peaches in a greased shallow 9 x 13 baking dish.
To prepare the peaches, using a small bowl, combine brown sugar, flour lemon juice, peel/zest, and cinnamon. Sprinkle this over the peaches and give them a gentle toss.
For topping, combine the flour, sugar, baking powder, salt, nutmeg, and cinnamon. Stir in the egg and vanilla until the mixture resembles coarse crumbs. Sprinkle this on the top of the peaches. Pour melted butter evenly over the topping.
Bake on the middle rack of the oven for 35 to 40 minutes or until the top is golden brown and the peaches are bubbling. Serve with vanilla ice cream if desired.
Please feel free to let us know if you tried this recipe, and feel free to share your pictures on our Facebook page. We can't wait to see you at the market!
Visit us end of May to end of October at the Aberfoyle Farmers Market in the Optimists Rec Centre on the covered rink surface, Saturdays from 8am to 1pm. 23 Brock Road South, Aberfoyle, Ontario.