Serves 6 to 8
I have told you before that my family LOVES pickles. And really, that is an understatement. So, when I came across this recipe one day, I knew I had to try it. For those of you who are not huge pickle lovers, you might want to put aside your distaste, because the pickles in this recipe give the soup a nice tart flavour. This is a simple soup, which has become one of the most requested in our house.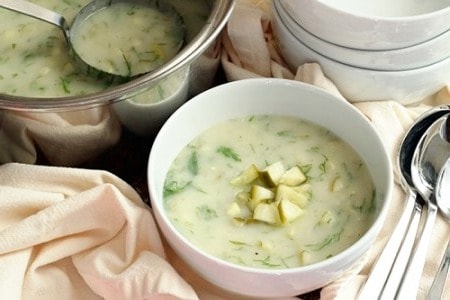 Hopefully you tried out my crispy market fresh Dill Pickle recipe that I posted a few weeks ago, and if you did, by now you should have delicious crispy pickles just waiting to jump in this soup. If you have not made any (don't fret, there's still time) you can use store bought pickles and the results will still be out of this world.
Ingredients
5 – 6 cups of chicken broth
1 3/4 lbs of potatoes, quartered
2 cups chopped carrots – smaller diced
1 cup chopped celery – smaller diced
1 cup chopped onion – smaller diced
1 cup chopped dill pickle – smaller diced
1/2 cup unsalted butter
1 cup of all-purpose flour
1 cup of sour cream
1/4 cup of water
2 cups of pickle juice
1-1/2 teaspoons of Old Bay Seasoning (found in any grocery store, or make your own with this recipe)
1/2 teaspoon table salt (or 1 teaspoon Kosher salt)
1/2 teaspoon black pepper
1 teaspoon of Frank's Red Hot Sauce (or to taste)
Directions
In a large pot melt butter. Add your carrots, celery and onion. Cook these until the onions are translucent.
Add the chicken stock, pickles and potatoes. Bring this to a boil and cook until the potatoes are tender. You do not need to peal the potatoes. If you don't just make sure to wash them very well.
In a medium bowl whisk together the flour, water & sour cream. Start whisking this into the soup, a few tablespoons at a time. As you do this the potatoes will begin to break up a bit.
Add your pickle juice and seasoning to the soup. Taste the soup before adding the salt as all pickle juices are not the same. You may need less salt. Add the Frank's Red Hot at the end to round out the flavours.
Serve and garnish with sliced Dill pickles, sour cream and fresh dill if desired.
Visit the Aberfoyle Farmers Market in Aberfoyle, Ontario at 23 Brock Road South, on the rink surface of the Optimist Recreation Centre. Saturdays from the end of May until the end of October, 8am to 1pm.