I am really excited about this recipe today, because it really is a personal favourite of mine. And today I will also let you in on a few secrets of mine.
First secret. I traveled to Greece when I was 15 years old. And it could have been that all they seemed to feed us was nothing but Dolmades (like a cabbage roll, but wrapped in grape leaves – that I can not stand the taste of) that I decided at that time that I did not like Greek food. But please, hold your judgement. Don't hate me yet. I will explain that I adore Greek food, and now, having had a chance to sample more of this amazing countries delicacies, include Greek food among some of my favorites. In fact, I hope to get back there one day so I can seek out all the wonderful foods that I do indeed love.
My second secret is that I don't really care for chicken. At least not chicken breast. It's often dry and bland. You will never find me ordering chicken in a restaurant.That was until I made this recipe for the first time. I LOVE this dish. It is moist (if you cook it my way) and so very very tasty.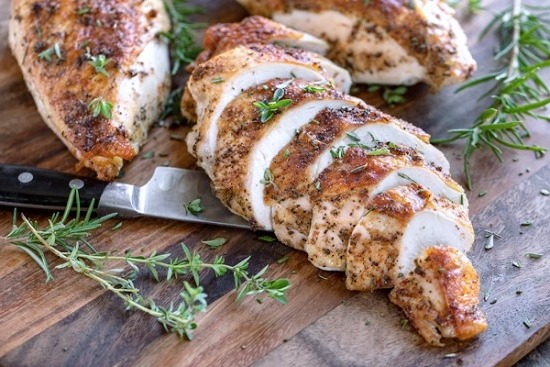 Third secret, roasting meat is always better if you can cook it with steam. When we purchased our last ovens we choose one that had a steam feature. It is amazing! It makes the most amazing crust on bread, and cooks meat like chicken and turkey in a fraction of the time and you never ever have a dry bird.
Now, I know that most of you don't have a steam oven, and that's okay. There is a simple trick that you can do to achieve a similar result. Simply place an oven proof dish with water in it on the bottom rack of the oven. The heat of the oven will create steam. Just make sure you check the dish frequently to ensure there is still water in it, and use a thermometer in your meat as it will cook faster. But oh so much better too!
Okay, enough of my secrets, let's get to the recipe. A recipe that uses a ton of market fresh ingredients. Including a new vendor at our Market call Mortar & Pestle Spice Shop, fresh free range chicken, potatoes and more! It is the perfect recipe for this bridge season between the heat of summer and the cool of autumn. Fresh crisp salad rounds this dish out in a refreshing and tasty way. And if you are feeling adventurous, why not try making your own pita? I can promise you it is a gagillion times better than any store bought pita, and really not remotely hard to make. This is the recipe I use: http://allrecipes.com/recipe/232719/chef-johns-pita-bread/
Greek Chicken Ingredients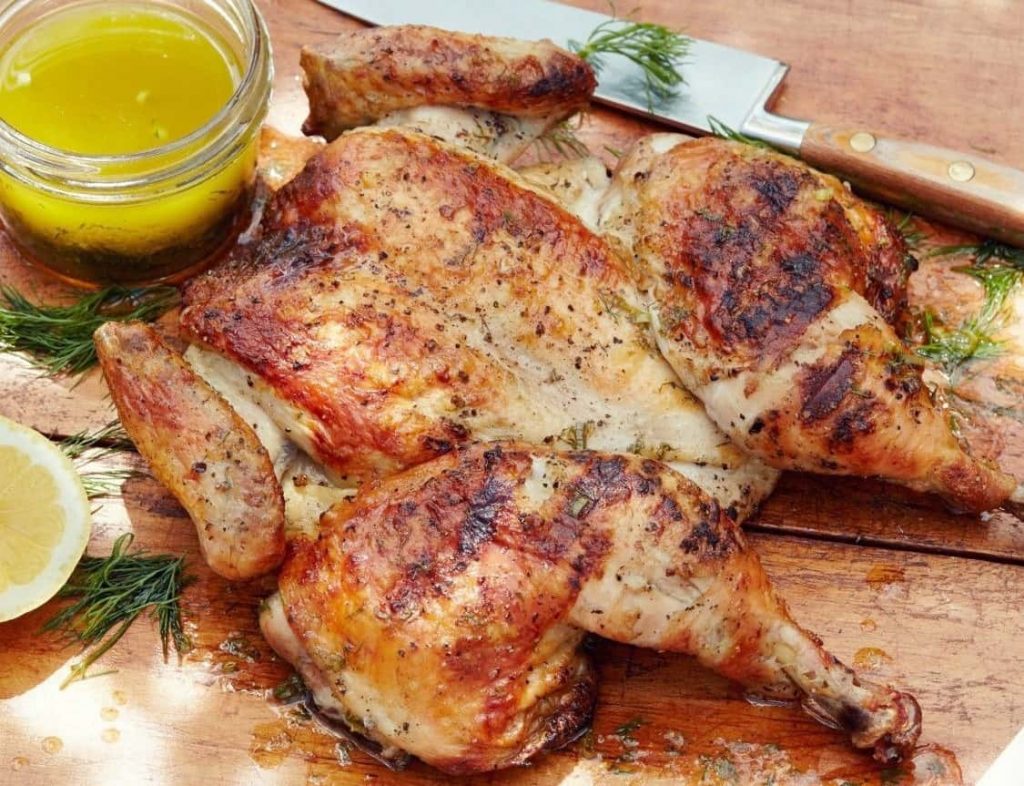 Fresh free range Chicken whole, halved or quartered
4 cloves Fresh Ontario garlic, minced
2 tbsp of "For the Birds" spice mix from Mortar & Pestle Spice Shop
Salt (Preferably Kosher) to taste
1/2 Lemon
1 tbsp of Olive Oil (Theodora from Wa's Kobe Dogs)
Greek Lemon Potato Ingredients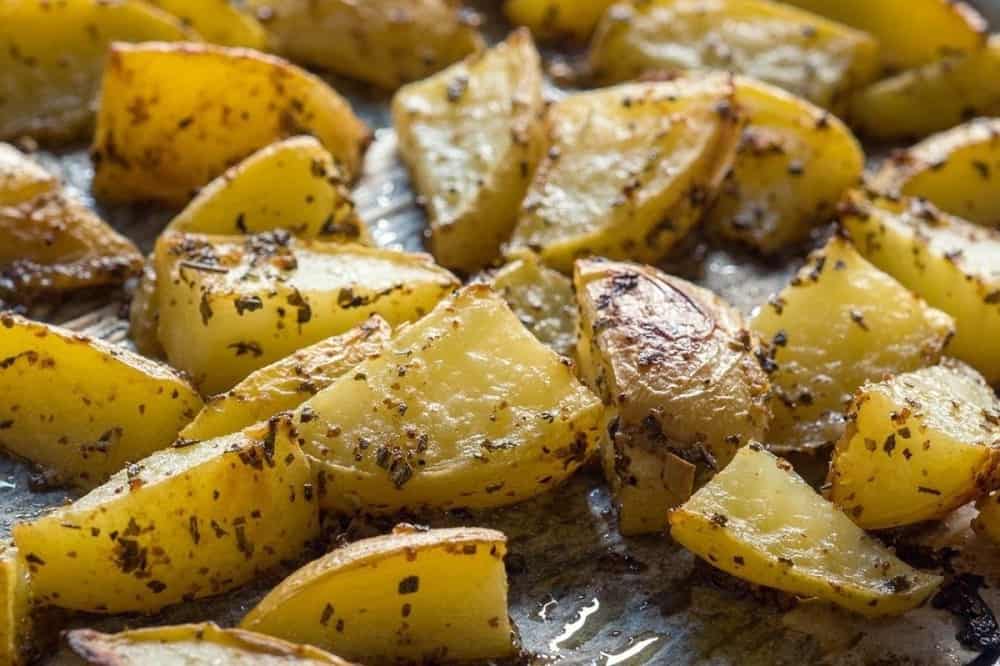 2 lbs of potatoes washed, and cut into bite sized pieces
4 cloves of fresh Ontario garlic, minced
1 tbsp of "For the Birds" spice mix from Mortar & Pestle Spice Shop
Salt (Preferably Kosher) to taste
1/2 Lemon, juiced
2 tbsp of Olive Oil (Theodora from Wa's Kobe Dogs)
Directions for Chicken & Potatoes
Preheat oven to to 350 degrees if you are steam roasting it. Otherwise 375 degrees.
Place the chopped potatoes into a large bowl. Toss with Olive Oil, minced garlic (or garlic spice blend from Mortar & Pestle Spice Shop), lemon juice of 1/2 lemon, "For the birds" spice blend and salt to preference.
Cover a large cooking sheet with parchment paper and spread out seasoned potatoes on sheet.
Cook the potatoes for about 10 minutes.
While the potatoes start to cook prepare the chicken by cutting it in half with a large chefs knife and pat dry with paper towels. You can roast it whole but it will take longer.
Squeeze the lemon over the the chicken and rub with the lemon. Rub the chicken with the Olive Oil. Rub the chicken with dry spice mix, salt and minced garlic.
Remove the potatoes the oven and place the chicken pieces directly on top of the potatoes.
Return the cooking sheet back to the oven and continue to roast until a thermometer inserted in the thickest part of the meat registers around 170 degrees F. About 50 to 60 minutes.
Greek Salad Ingredients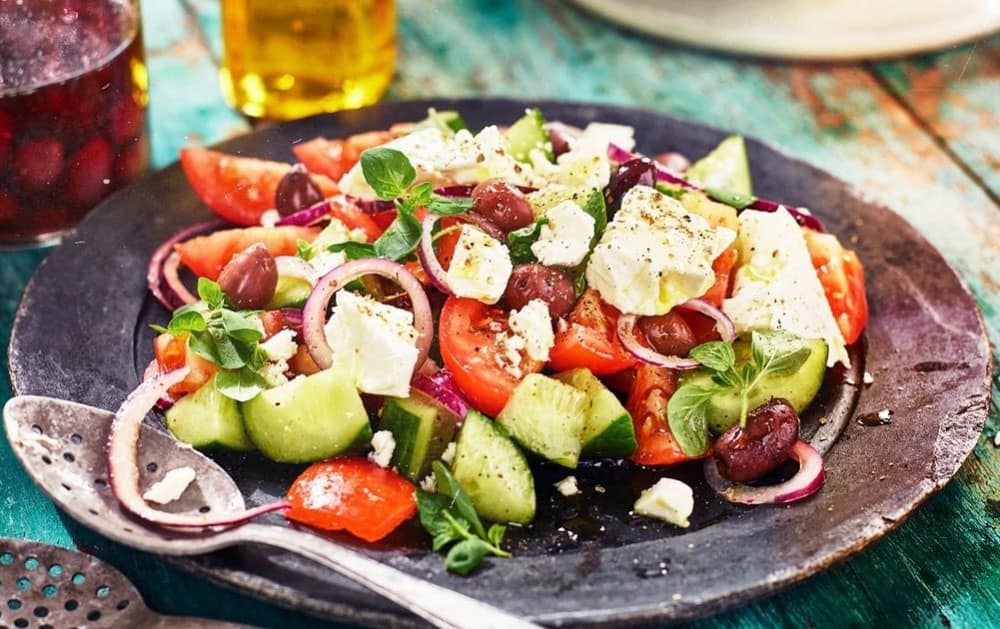 Fresh Lettuce – Boston, green leaf or red lettuce, or a mix, chopped & washed
Pint of Grape or cherry tomatoes, cut in half
1/2 Cucumber, sliced
1/4 of a Red Onion, sliced thinly
A handful of Kalamata Olives
100 grams of feta cheese, chopped
Greek Salad Dressing Ingredients:
1/8 cup of fresh squeezed lemon juice
Zest of 1/2 lemon
1 tsp of sugar
Heaping tbsp of Dijon mustard
1 tbsp of "For the Birds" Spice mix from Mortar & Pestle Spice Shop
pinch of salt
2 tbsp of Red Wine vinegar
1 egg yolk
3/4 to 1 cup of Olive Oil (Theodora from Wa's Kobe Dogs)
Greek Salad & Dressing Directions
Toss all salad ingredients together in a large salad bowl
In a medium sized mixing bowl/dish combine lemon juice with zest and sugar and mix until the sugar is dissolved. The sugar helps to take the edge off of the lemon juice.
Add the Dijon mustard, salt, spice mix, and Red wine vinegar. Mix.
Add the egg yolk but don't break it yet.
Start whisking in the olive oil slowly making sure to mix it well with the egg yolk, The dressing will begin to emulsify becoming thicker. Taste the dressing as you go. You don't want to use too much Olive Oil, or to little either. The dressing should be tart and fresh but not sour.
Toss the salad with the dressing and enjoy!
Visit the Aberfoyle Farmers Market in Aberfoyle, Ontario at 23 Brock Road South, on the rink surface of the Optimist Recreation Centre. Saturdays from the end of May until the end of October, 8am to 1pm.